Theme Giant bulb – Black Tulip – Queen of the night
How can something be just right and at the same time completely wrong?  It is an observation that also seems to apply to the work of Hoogervorst which is at once organized and organic; according to plan and plant-based; tight and loose; static and mobile; light-hearted and rigid; drawing and symbol. Is it about life and death? Is it about surviving? What is the significance of the many flowers in his work? Was the flower on this canvas cut with the knife from the other canvas?
A link with Sassenheim and the bulb-growing area might be an obvious one since it is the area where Hoogervorst was born and bred. It is also the place where the Sikkens paint factory is situated. Flowers and paint, what more could one want.
Hoogervorst does not paint bulb fields and flower arrangements but rather single blooms. He also captures the bulb from which the flower grows, the knife with which it is cut and the brush with which it is painted. These are all symbols of his visual language. The flowers are monochrome, usually black, the colors they once had recede into the background which also sometimes becomes the foreground. The lively interplay of lines contrasts with the organic floral motives, an overlaid geometry that sometimes also endows new life: from the horizontal and vertical lines that are painted over the flower motif a bud, leaf or brush sometimes sprouts. That is how life is passed on, by continuing in the next layer.
Artist – Michel Hoogervorst
Michel Hoogervorst was born in 1961 in Sassenheim, in the middle of the bulb region. He graduated cum laude from the Royal Academy of Visual Arts in The Hague, where he has been teaching since 1990 alongside his work as a visual artist.
To see his work: www.michelhoogervorst.nl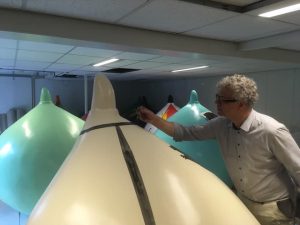 This bulb has no location yet